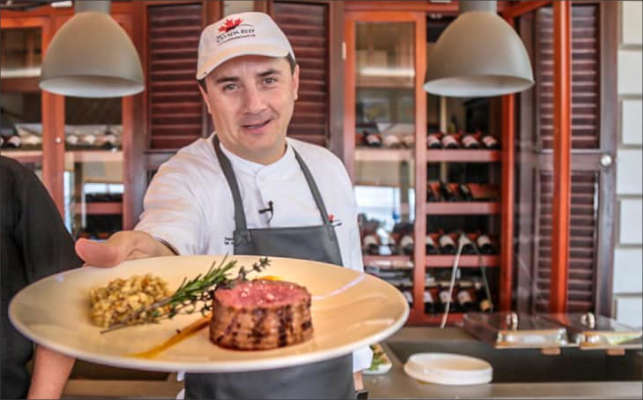 Chef Federico Lopez, Canadian Beef ambassador to Latin America and the Caribbean at the beef cutting demo and tasting. Bonaire, February 17, 2019.
Canarbo a top food provider on Bonaire only import from select suppliers out of North America and Europe. Our philosophy is to offer value-added products that are exquisite, top-notch, certified and sustainable. From Canada, high-grade Alberta grass and grain-fed beef, or fish from the East Coast, fresh Atlantic cold-water salmon and smoked salmon. Seafood, such as oysters and scallops from the Bay of Fundy, and succulent Canadian maple syrup. From the USA, a strong variety of dried goods, and toppings for Pizzerias, or Finger Snack Food, such as (Buffalo Chicken Wings, Popcorn Shrimp, Jalapeno Poppers) and other delectable items. From Europe, Dutch fresh vegetables air-freighted weekly with KLM cargo. International (World), fresh Vanilla Beans from Madagascar.
Canarbo's commitment is always striving to expand our options and product selections, to match the growth of the culinary scene on Bonaire. This value-added service is to empower the Bonarian restaurants to be creative, with the sole intention of offering a wonderful food experience to their customer base. Equally important is catering to the burgeoning culinary culture of Bonaire. The "Foodies and Home Chefs", that love to cook for themselves, or entertaining families and friends with their skills.
It would be a pleasure to welcome you at our offices, or call (+599) 701-0525.